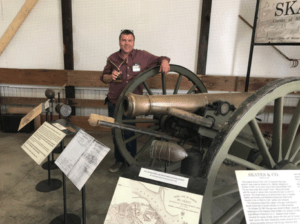 The National Chicago Civil War Show Sept. 29, 2018 at the DuPage County Fairgrounds Presents:
Come see an original Confederate 1861 bronze 6 Pdr rifled gun – Serial #1 made by Skates & Co., Mobile, Alabama.  This gun fired one of the last shots of the Civil War before it was captured At Fort Blakely April 9, 1865. Original projectiles from the battlefield confirm its location and use. Owner, Ken Knoll, has researched and gathered the history of the gun, as well as the maker Skates & Co. and will be displaying his collection for all to see. This display has won two previous Best of Show Awards.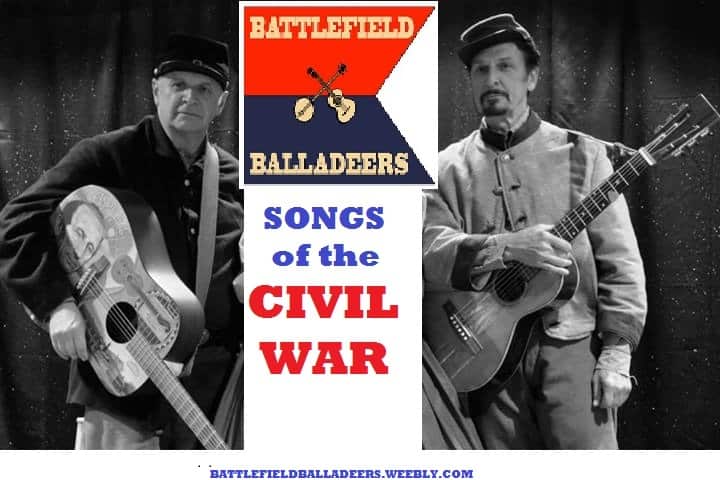 BATTLEFIELD BALLADEERS
Songs of the Civil War
The Chicago – Wheaton Illinois Civil War Show and Sale welcomes the BATTLEFIELD BALLADEERS September 29, 2018
BATTLEFIELD BALLADEERS' mission is to perform the songs and music of the American Civil War. The repetoire consists of the patriotic, sentimental , and  comic songs of the period along with minstrel favorites and the melodies of Stephen Foster.
BATTLEFIELD BALLADEERS have performed at the Abraham Lincoln Presidential Library, Chicago History Museum, First Division Museum, Kenosha Civil War Museum, Chicago Gaelic Park Irish Fest,  on the battlefields of Gettysburg , Perryville and Selma, and numerous libraries ,museums,  historical societies.
Unamplified acoustic instruments performed by a variety of personnel in museum quality uniforms bring to life the sounds of the Blue and Gray for all ages.
Each selection is prefaced by an introductory statement of why the song was popular or important using the quotes of Lincoln, Lee, Douglass, Mary Chestnut and Mark Twain. Audiences are encouraged to join in and sing along and clap as BATTLEFIELD BALLADEERS celebrate the pageantry and musical heritage of America's Civil War era.   http://battlefieldballadeers.weebly.com/